Photo by myself, at 39th Street and Eighth Avenue in Midtown.

The weather has truly been resembling March lately. It's been slightly chilly and blustery, sending everyone running to their long coats and hats.

Also, the Megamillions sweepstakes drawing on Friday for over $550 million dollars turned up three first place winners around the country. Despite that, people are still playing the lottery. Above, the guy on right was playing one of those instant win games, where you scratch off areas to see whether you've won.
--
I experimented a little before deciding to post the photo above.
Usually I don't mess around with the proportion of an image. More often than not, I post using a 4:3 proportion, or 1200 x 900 dpi, as in the photo below: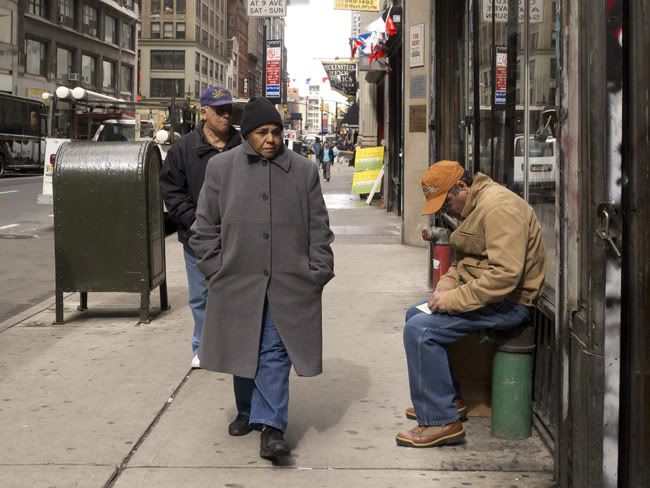 For some reason, the photo didn't look right. So I changed the cropping proportion to 3:2, or 1200 x 800 dpi. The result is more horizontal and oppressive. The overall layout seemed to reflect the body language of the
woman
man in the center (!).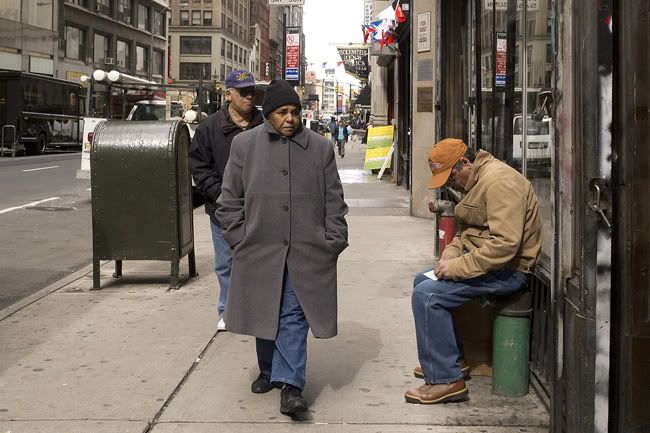 Finally, there were some nice shadows on the woman's man's face, so I changed the values to monochrome. The bleak image and monochrome seemed to work well together.




What do you think? Is the flatter image better? Do you prefer the color over black and white? Is using black and white a gimmick?

Let me know. I'm curious!

Related posts: On Chrystie Street and Photography 101, On Stolen Glances and New York Moments, and Bewildered, in Times Square.